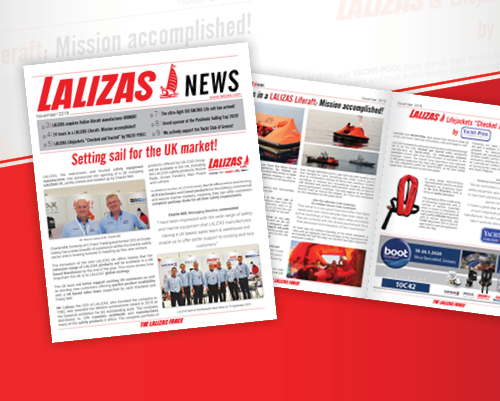 17/12/2019
Lalizas Newspaper was an initiative embraced by all of our partners!
Have a look at all the latest Lalizas News through our newspaper!
People at Metstade Show (19-21/11) were the first ones to grab a copy and get informed about all recent Lalizas actions.
At MarinTec China (3-6/12) people also got amazed when they went through our newspaper, realizing that for Lalizas, safety is an ongoing process!
''Lalizas News'' includes highlights from 2019 and worth sharing moments for which we are proud of.
The strategic acquisition of the Italian liferaft manufacturer, Arimar plays a leading part in our newspaper and underline the fact that Lalizas does not stop wisely seizing opportunities.
We are also extremely happy as LALIZAS has been selected amongst all, to be the only checked and trusted safety equipment manufacturer by YACHT-POOL, the international maritime insurance service with more than 40-years of operation in the European market.
Our actions revolve around safety at sea and we are proud of supporting Posidonia Sailing Cup 2020, as grand sponsor!
Have a look for yourselves at the following link, and find out all the latest Lalizas News.
https://www.lalizas.com/filemanager/uploads/files/catalogues/LALIZAS_NEWS_NOVEMBER_2019.pdf